Tech Education Network – Launch
28/06/2018 @ 6:00 pm

-

8:00 pm
The Tech Education Network (TEN) exists to connect the tech community with our wider society, equipping children and adults with information, practical resources and training through its networks, knowledge sharing and programme delivery.

We are a team of techies who work within the tech community and are directly linked with industry. We want to share our knowledge with you, on how we can help raise awareness of technical skills & support within various groups and age ranges in our community. We are inviting you to come along and join us to find out what T.E.N can do for You, Your Business, School, Youth Club or Outreach Group.

Why attend?

What we offer as a group is:
• Access to resources and people who can help you make tech relevant to your audience.
• Bespoke tailored programs specific to group needs.
• Direct access for educators to the tech industry professionals
• Tackling diversity and making career choices more relevant to student's actual interests
• Alleviate unemployment, bridge skills shortage to help the industry meet its resource targets.

One of the things we're excited to tell you about is a new outreach program. A small team have been working hard in the background to create a pilot program to be rolled out to a focused group by the end of July. The pilot is a 6-week course in Digital Marketing and Design, aimed at NEETS.

We want to create more teams of passionate, committed people who want to reach out and help people learn about a wide range of technologies.

We look forward to seeing you on the 28th and please feel free to share this event with your own colleagues, schools, clubs, groups and peers!
Please RSVP via the Eventbrite link as this will help us as a non-profit to judge refreshments.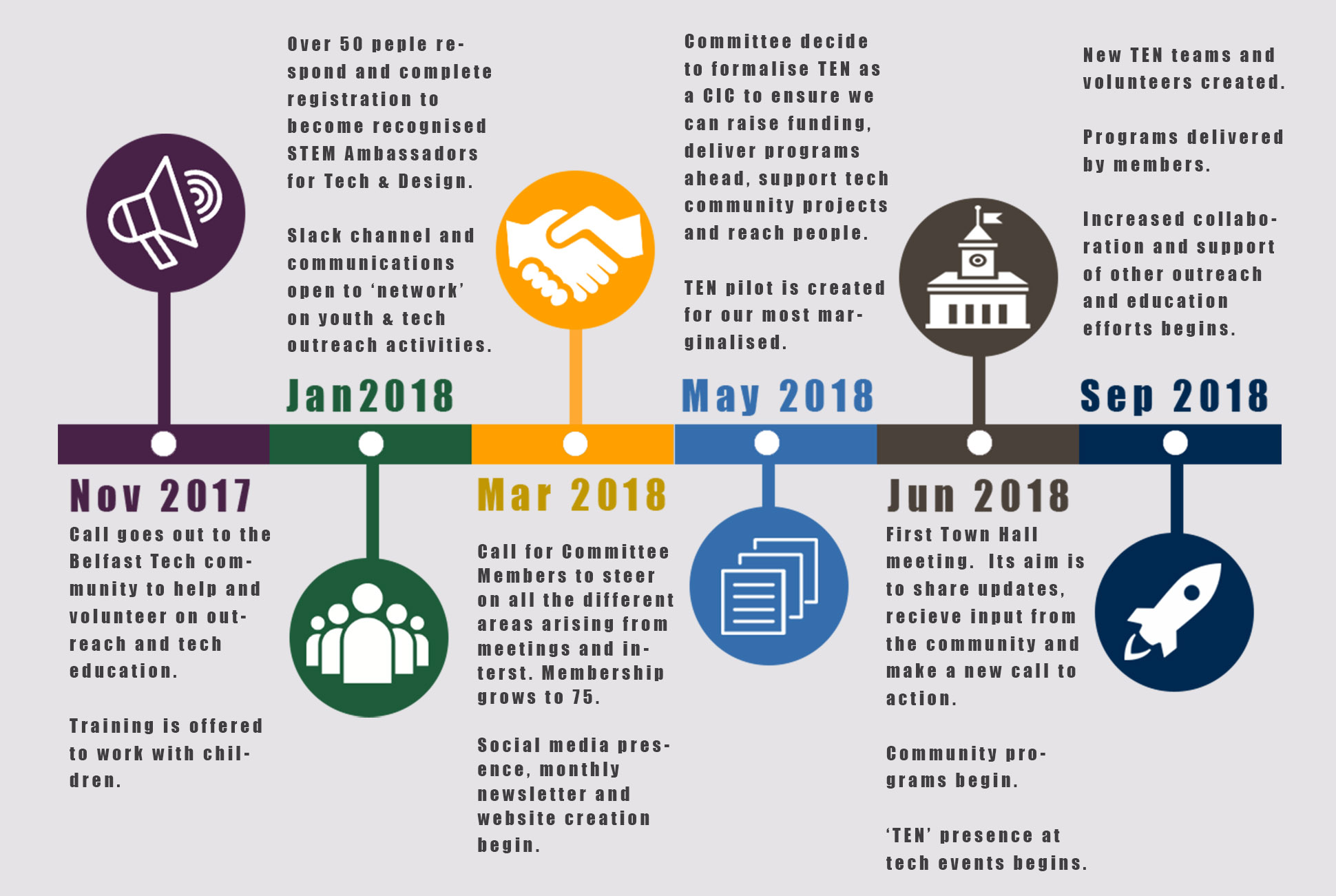 Our launch has been kindly hosted by Ormeau Baths and Barlcays Eagle Labs 

Belfast, and sponsored by Graffitti Recruitment and Innovation Factory.